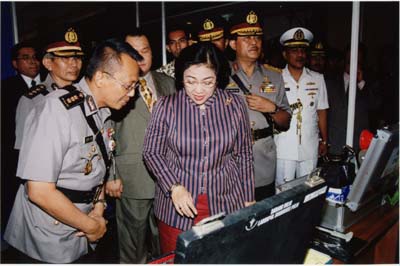 The Indonesian President Megawati Soekarnoputri was very interested in the identification process and forensic equipments used for identification of human bodies (e.g. mass disasters victims, criminal act victims), she showed the interest during the opening of the Indonesian Police Expo, January 21, 2003, accompanying her was the Indonesian National Police Chief General Da'i Bachtiar (2nd right).
The President asked many questions about the identification process when she visited Pusdokkes Polri's stand in the Police Expo, and representing Pusdokkes was the right person to answer those questions, the Secretary to the Police Medical and Health Centre (Sespusdokkes) Sr Supt. Dr Eddy Saparwoko, SpJP,MM,DFM, (most left), as he was the Chief of the Indonesian DVI Operation Team for the Kuta Bali Bombing Case.
The result of the identification up till January 13, 2003 is 188 victims were identified, 5 bodies havenít been identified (percentage of the identified bodies is 97,41 %).
Indonesia     

34

victims

Australia 

82

victims

UK

22

victims

USA 

7

victims

Germany & Sweden (each)

6

victims

The Netherlands & France (each) 

4

victims 

New Zealand, Swiss, Denmark (each) 

3

victims

S. Korea, Japan, S. Africa, Brazil (each)   

2

victims

Ecuador, Italy, Taiwan, 

Canada, Portugal, Poland (each) 

1

victim